20% of Americans will develop skin cancer at some point in their lives. It is essential to understand the different types as early detection could save your life.
When it comes to skin cancer, knowledge is your best defense. Skin cancer is the uncontrollable growth of abnormal cells in the outermost layer of the skin. Caused by unrepaired DNA damage that triggers mutation, the skin cells multiply rapidly and form malignant or cancerous tumors.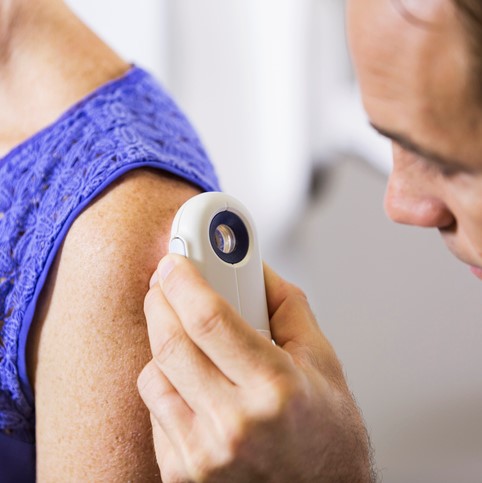 The Main Types of Skin Cancer
There are three main types of skin cancer:
Basal cell carcinoma (BCC)
Squamous cell carcinoma (SCC)
Melanoma
Basal cell carcinoma is an abnormal, uncontrolled type of growth that comes from the skin's basal cells, which are found in the outermost layer of the skin. It typically develops on the scalp, ears, face, neck, shoulders, and back and is caused by the combination of intense, cumulative, and long-term exposure to UV rays. There are approximately 3.6 million cases diagnosed in the U.S. each year.
If not detected and treated early, BCC can be locally destructive. In some cases, this type of cancer can metastasize or spread, and in rare cases, it can be fatal.
Squamous cell carcinoma is the uncontrolled growth of abnormal cells from the squamous cells in the outmost layer of skin. It is commonly found on sun-exposed body areas such as the hands, shoulders, ears, face, and scalp and is caused by years of UV radiation exposure from the sun and tanning beds. Approximately 1.8 million cases of SCC are diagnosed in the U.S. each year, making it the second most common form of skin cancer.
If not detected and treated early, SCC can sometimes metastasize. Each year in the U.S., approximately 15,000 deaths occur from invasive SCC.
Melanoma develops when the pigment-producing cells which give color to the skin become cancerous. They often resemble moles, and a mole may even develop into a melanoma. They can be found anywhere on the body, even in areas not often exposed to the sun.
It is the most dangerous type of skin cancer, but it can be cured if detected and treated early. According to the Skin Cancer Foundation, melanoma is projected to cause 7,180 deaths.
Detecting Skin Cancer
Many health care providers include a skin exam as part of their routine check-ups. Even if your primary care doctor checks your skin, we recommend that you check your skin about once a month. Make sure you're in a well-lit room, in front of a full-length mirror. Use a hand mirror in areas that are hard to see.
The signs you need to look for include a spot or mole that has changed color or appearance. If it begins itching or bleeding, or if you have a new, rapidly growing spot that changes shape or color, you need to have it examined by a dermatologist.
Trusted Experts in Skin Cancer
We provide comprehensive skin cancer treatment and reconstruction, including Mohs Micrographic Surgery and Facial Plastic & Reconstructive Surgery. We are experts in diagnosing and treating skin cancer, from the most common to the rarest and most complex tumors. You can rest assured you will receive the highest quality care.